Client:
Lumière Beauty Clinic
Industry:
Cosmetic Surgery
Skills:
Landing Pages, Web Design & Development, SEO, PPC, Content Marketing, Graphic Design, Facebook & Instagram Ads
CHALLENGE
Lumière Beauty Clinic, Sydney's premiere medical-grade medical-surgical clinic that puts a significant focus on minimally invasive procedures, was founded by Ms Christy Xuan in 2017.
Since Lumière Beauty Clinic is a fairly young brand, therefore they haven't got a solid online foothold as other medical and beauty clinics in the Sydney market.
Despite being excellent in what they do, their online visibility was fairly weak with low website visibility. There were not many patient reviews and the website content was thin without in-depth content, videos, previous patients' case studies and before and after images.
Another goal that Lumiere Beauty Clinic wants to achieve is to generate more enquiries from the Caucasian market as they were getting enquiries mainly to Chinese speaking communities.
The website traffic was low and the Google ads campaign was not strong enough to generate any substantial number of leads.
They worked with several branding and marketing agencies before without much success.
SOLUTION
Clarify 3 foundational marketing questions for Lumiere Beauty Clinic
Research on what strong competitors do and how they do well
Revamp the website to increase user experience and conversion rate
Highlight Lumiere Beauty Clinic's value proposition and key differences from other clinics
Target Chinese speaking community with dedicated content and landing pages for paid search campaign
Implement comprehensive keyword research for all targeted suburbs, services and blog content
Build more niche service pages
Implement SEO on-site best practices
Gain local reviews
Build high-quality links
Create a dedicated landing page for Google Ads campaign
Implement SKAG Google Ads strategy and cost per click negotiation process with google·
Generate new leads through Facebook & Instagram ads
Results after an initial 6-month campaign;
A 438% increase in total monthly web traffic to Lumiere Beauty Clinic's website
A 178 % increase in organic traffic
A 2,657% increase in social traffic
A 1,219 % increase in Google ads traffic
A 100% increase in leads
"A year ago we met up with Huyen and Steve from OMD. We've taken them on as our marketing agency and we've outsourced everything to them. It's been a great move for my clinic. We have seen approximately a 300% jump in enquiries over that time. I've been really impressed with these people and the way they do business. They've been accountable the whole way. They supply me monthly metrics and we have monthly meetings to keep everything on track and organized. I couldn't recommend them highly enough. They have done exactly what they have said they were going to do. There was long time where I tried other marketing companies who really did a lot of things very well but failed to get the phone ringing the way they promised. These guys have done that and as a business owner that's really wall you want. Thank you OMD!"
Ms Christy Xuan
Managing Director/ Owner of Lumiere Beauty Clinic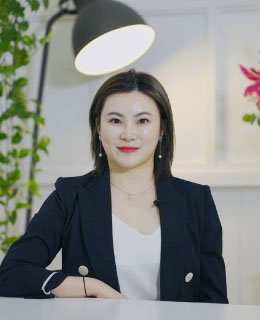 IF YOU WANT TO DIVE DEEPER INTO OUR WORLD, THESE LINKS LEAD THE WAY