HOW VASECTOMY AUSTRALIA INCREASED THE
NUMBER OF PATIENTS BY 100% IN 9 MONTHS
503%
Increase in
organic traffic
100%
Increase in number
of new patients
300%
Savings on Google
Ads budget

1
SEO strategy ranking
#1 in most markets
"After some false starts with a couple of digital marketing companies I was very cautious about signing up with a new company so I did a lot of due diligence on not just OMD but also about 5 others. Huyen and Steve came to my office at Enmore and were very well prepared for a presentation about how they were going to take my business forward. Even pre COVID this was rare and I hate Zoom meetings! I originally found them through their podcast which is very good. I was impressed with their vision for my marketing so I called a couple of their clients to get references. They were nothing but glowing. As I said to Huyen and Steve - marketing shouldn't cost you anything. If they get the results your increase in sales should easily pay their fees and the PPC costs. This is exactly what has happened in the approx 9 months I have been a client of OMD. They have methodically transformed my digital presence and my sales have gone through the roof. I have not been disappointed and to be honest, they have exceeded my expectations. I look forward to a long relationship with OMD."

DR. GEOFF CASHION
Owner of Vasectomy Australia
ARE YOU TIRED OF
Going Through This?
Gaps in your schedule
Inconsistent flow of new patient bookings
Wasted time on non-serious enquiries
Relying on referrals
Prospects ghosting on you
Seeing other clinics getting busier than ever!

503%
Increase in
organic traffic
100%
Increase in new
patient numbers
Let us help you market your Vasectomy practice
to attract more cases and change more lives.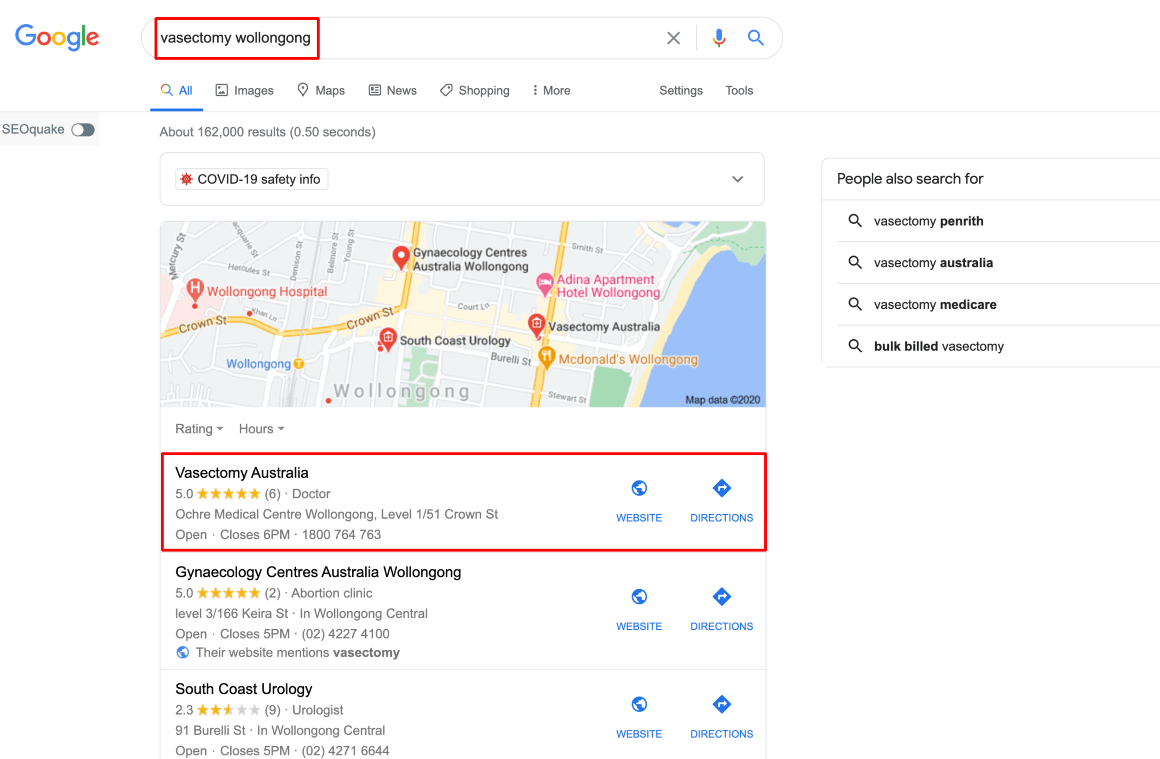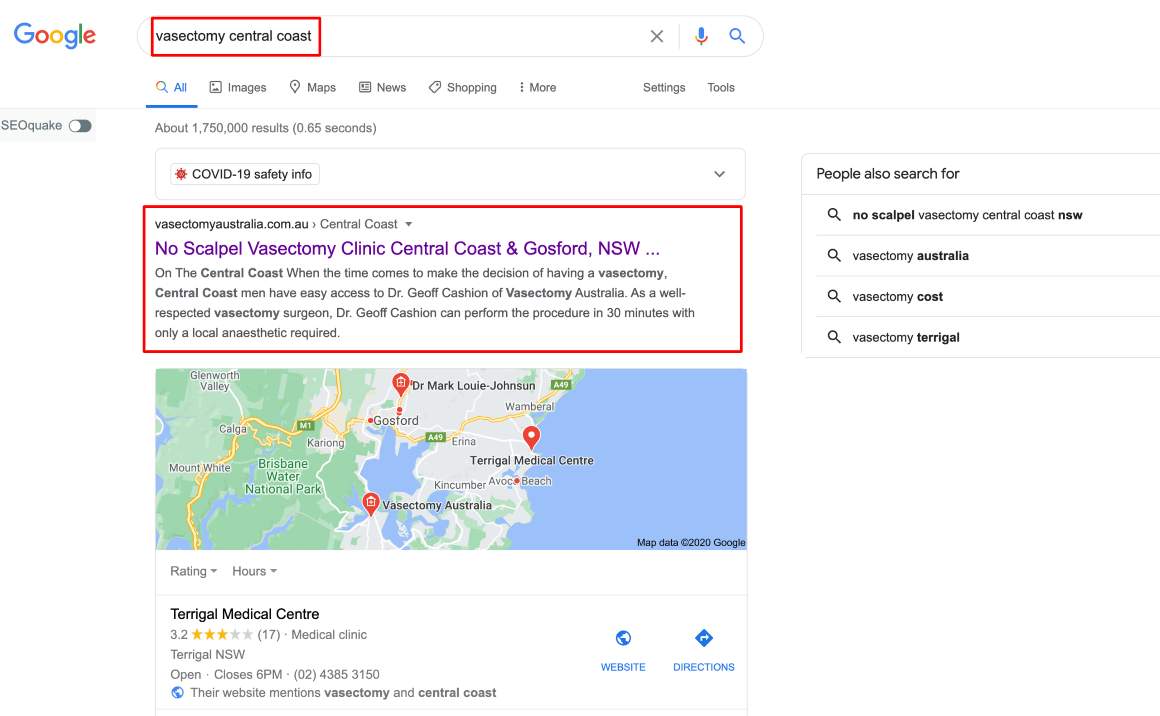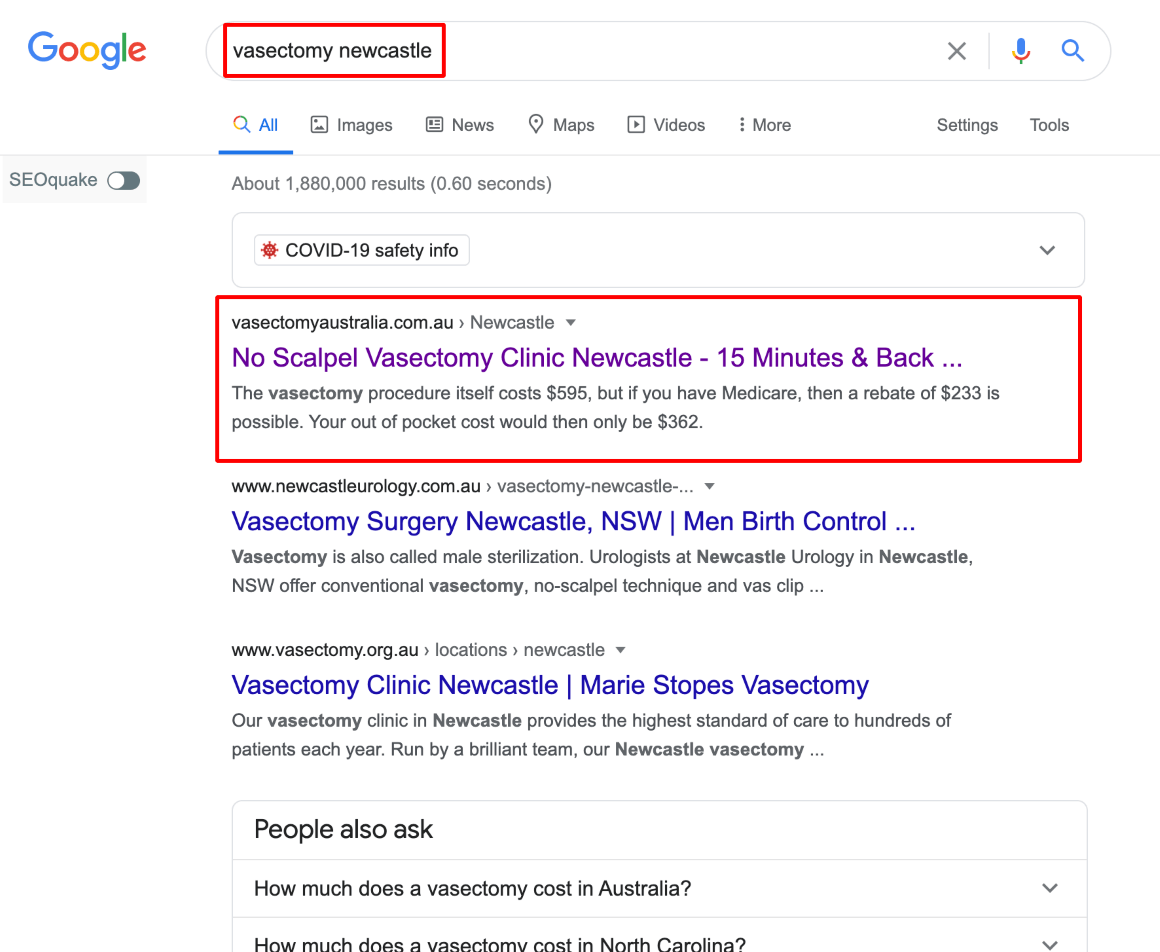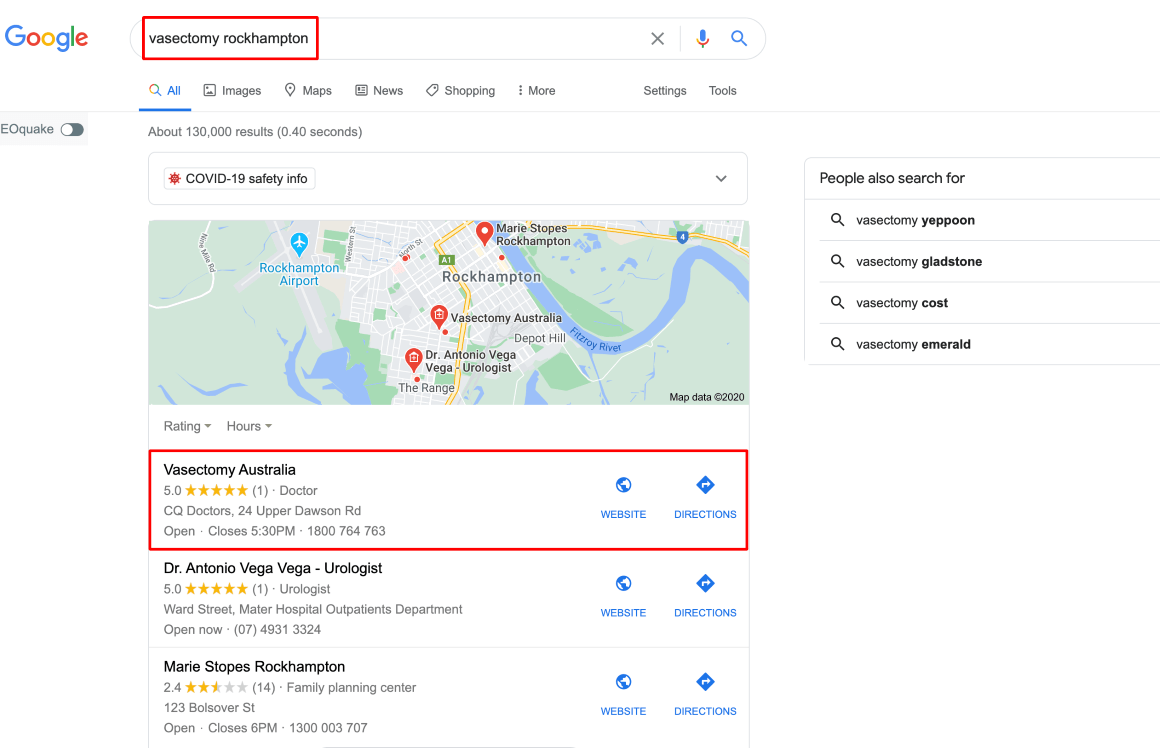 ARE YOU READY TO STOP WORRYING ABOUT THE
UPS AND DOWNS OF NEW PATIENT BOOKINGS?
Check Out The 7 Step Patient Generation System to Get More Patients Than You Can Handle
Step 1: Define your "one thing"
Work out which key procedure or service generates the most revenue or that you want to be known for and who your target patient profile is?
When you think of the most successful brands globally like McDonalds, KFC, Apple, Google, Starbucks... When you think about them, what is the first thing that comes to your mind? Definitely not for 20 different products!
Step 2: Work out the "Why" patients should choose you
At this step, you need to identify the top 3 to 5 reasons why patients should come to you versus your competitors.
Your key differences have to be compelling and irresistible. Saying that you are "experienced" or "expert" in this procedure will not cut through in this noisy, distraction-filled world that your prospects are living in, you have to demonstrate the key differences.
For example more affordable pricing (if your price is one of the best in the market, then show it), work specifically with mothers with kids, using a combo of multiple procedures or treatments to achieve the results, flexible payment options etc.
If you are not sure, we can help you reach out to your past patients and figure out why they come to you and talk to people who haven't chosen you as to why they chose you.
Step 3: Create a killer lead magnet for it
Enquiring about your core services immediately can sometimes be a big commitment for prospects. A long hard decision depending on your core service, especially if it has something to do with their health or appearance.
If you can take a portion off of your core service and narrow it down to give them a mini commitment to that smaller portion of your core service, it will be a lot easier for them to commit.
And then, once they have had a taste of your services, you can build trust and authority with them, and then you can go from there moving forward with your larger total service offerings.
A lead magnet is that ethical bribe, a free offer that you put up on your lead generation page to incentivise prospective patients to give you their email, name, phone number or whatever detail you ask for.
The lead magnet has to be irresistible; the lead magnet has to target the pain of your patients. What do they hope to get from your service? What are the things that cause them pain or discomfort, and what can you do to relieve them? it should speak directly to your potential patients and be impossible for them to resist.
Step 4: Create a high converting landing page for the procedure with the lead magnet
A website is where people see your credentials, qualifications, contact information and your before and after work.
The problem is there are so many calls to actions on the website that distract your prospective patients. If you want a converting machine, you need a focused or tailored landing page that targets your core audience to communicate why they should choose you for a particular procedure.
Landing page is where your prospects land on from different traffic channels, it's like the front view of your shop. If that's not inviting, people will walk past and don't even want to check out what you got to offer.
You need to have a high converting landing page that warms up cold prospects, converting them to itchy-to-buy prospective patients.
Step 5: Active Community Outreach
Who are your dream customers and where do they spend their time? What other types of businesses and services do they use? Where do they hang-out socially, both online and in person? Consider the tribes they're already in and the communities they're a part of. Who are the leaders, the tastemakers, the influencers?
Knowing how to get into and communicate to those tribes and communities will separate you from everybody else passively marketing. It will take your ideal buyer from "Never heard of it." to "What is this clinic I keep hearing about or seeing all the time?!
Step 6: Generate rapturous patient reviews
Getting patient reviews is one of the key challenges in improving medical clinics' online reputation and increasing new patient conversion rates.
84% of people trust online reviews as much as a personal recommendation, so to increase the conversion rate of new patient enquiries, you need to get more positive reviews for the procedure you want to promote.
If you need help in generating positive reviews in a short amount of time, we'll provide you with a simple and effective plan to generate at least 20 patient reviews for your clinic in a month.
Step 7: Refine Sales Process and Optimise Conversion Rate
In order to increase the new patient conversion rate, you need to have a proven sales process in place to help your staff deal with incoming enquiries and their objections and do 70% of the convincing work before seeing the doctor or surgeon for in-person consultation.
If you haven't got one yet, we can help review your sales process and give you our proven new patient conversion system and training to improve your new patient conversion rate.
This is inclusive of how to screen out prospects over the phone, qualify them and address all the objections in their minds.
We'll do this before they come up in the conversations and effective follow up system for your staff. This will help you convert more enquiries to booking and save time on chasing prospects that keep ghosting you.
Affordable
Affordable & Highly
Targeted Traffic
(Via Google Ads, SEO, Facebook & Instagram Ads) which we will present how to achieve it in the custom patient generation plan in the next step.
System
A System
To Turn
that traffic into
itchy-to-buy leads
Sales
Sales Process
& A Script
of exactly what to say to these leads to convert them into high-paying clients/patients
VASECTOMY CLINICS WE HAVE HELPED
TRANSFORM THEIR BUSINESS
VASECTOMY AUSTRALIA
Results after an initial 9-month campaign:
A new conversion based website
A 503 % increase in organic traffic
A 202% increase in direct traffic
SEO strategy that has VA ranking No 1 in most of VA's markets
Saving VA about 300% on their Google Advertising budget so their budget goes about 3x further
Created new videos with a Facebook marketing strategy
Helped VA quickly create a new business during COVID lockdown when they couldn't operate with a full suite of digital marketing strategies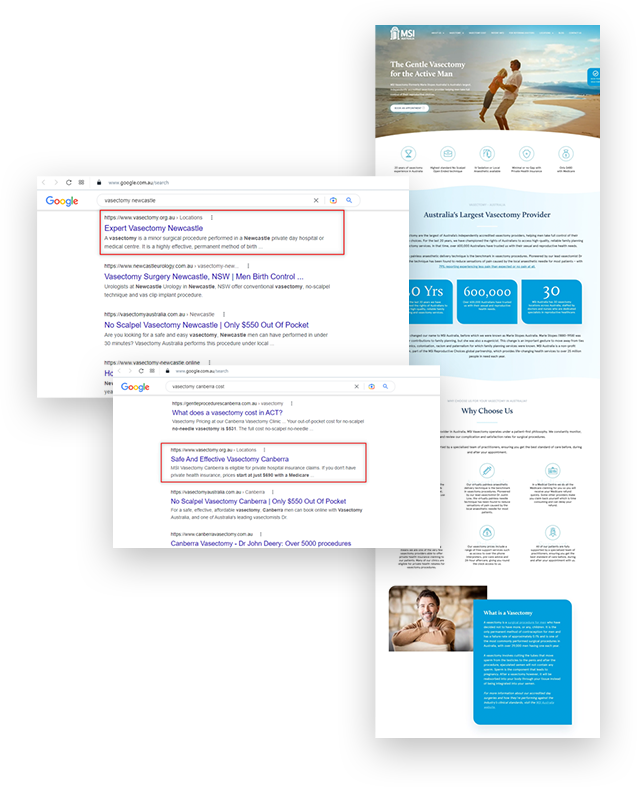 MSI AUSTRALIA
"Thank you again for all your great work this year making great steps forward in our marketing goals for 2022. We look forward to an incredible year next year now that we have laid a great foundation with the new website, online booking and optimisation of digital and social campaigns. Mark has been doing a great job setting up direct GP meetings. I would like to thank Sergiu, Florian, Mark, and of course, Michael for all your great efforts this year and we look forward to working together closely next year again as we continue to establish ourselves as the premier vasectomy service in Australia."
Dr Justin Low
National Director of Vasectomy Services at MSI Australia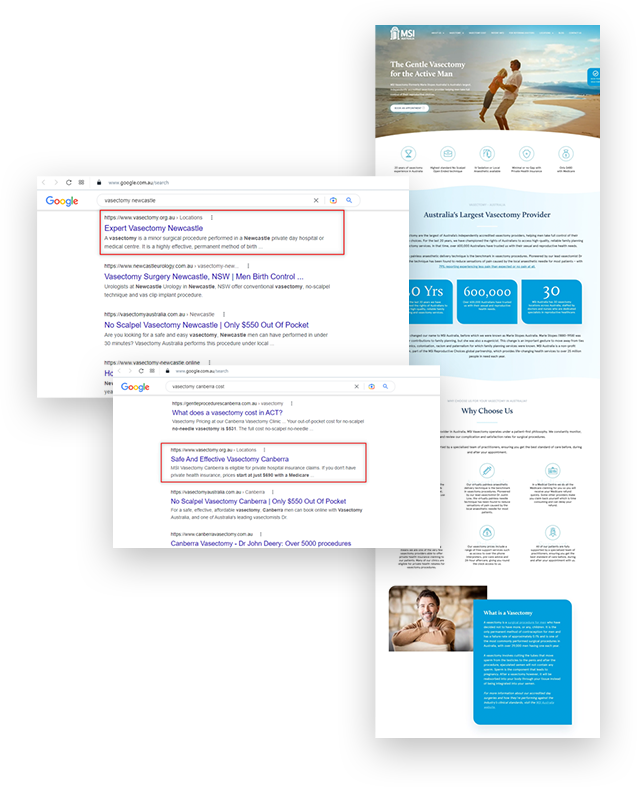 Why Us
WHAT RESULTS CAN YOU GET?
Online Marketing For Doctors is a specialised digital marketing agency focused exclusively on providing a complete digital marketing system to connect vasectomy clinics with new prospective patients in their field.
Why work with us? Here are some of the simple reasons:
It works
You Just Know That
It Works
Every single vasectomy clinic that works with us sees incredible results within 4 to 6 months * (see case studies below). We guarantee a return on investment multiple of 3. (*Results are different from clinic to clinic, we need to evaluate your current marketing situation first before giving you a more precise projection).
Save
Save You Time
and Money
With our proven system, you don't need to go through trials and errors or reinventing the wheel. We save you time and money by not experimenting on what doesn't work. If it works for other clinics, it will work for you (if you are qualified to use our system).
Specialists
Work With Specialists
In Vasectomy Marketing​​
Our focus is on delivering wow results for vasectomy clinics. Our team has years of experience in working with clients like you. You get to work with specialists, not generalists. Plus, we thoroughly understand medical advertising guidelines & we've designed customised online marketing strategies for vasectomy clinics that conform to AHPRA, and are fully GDPR & HIPAA Compliant.
Success
Your Success
is Our Success
Our reputation is closely tied to your campaign's performance and it's on the line. The vasectomy industry is small, everyone knows one another, if we don't do a great job for you, then that's the end of our business.
Support
Fast & Responsive
Support
You will be treated as a VIP by our team. Whatever technical problems might be occurring, just email or even SMS us, and we are available to support you fast.
Results
Thorough &
Results Driven​​
Our clients love our work at first sight, with high attention to detail ensuring client satisfaction. Everything we do and report to you is all about the bottom-line results.
WE DO THE MARKETING, YOU HANDLE
THE NEW PATIENTS
Get Specialised Online Marketing Services for Your Vasectomy Clinic
SERVICES WE OFFER
We offer a complete lead generation system for vasectomy clinics, which can be broken down into different components as below. Keep in mind that for this to work, we need an overarching, high-level strategy to guide all different activities of these channels & tie them all together so they work like a machine generating for you new patients.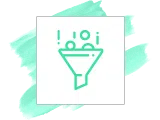 Lead Generation
Sales Funnels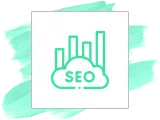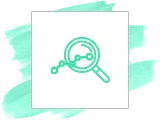 Results-Oriented Pay
Per Click Advertising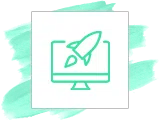 Conversion Driven Web
Design & Development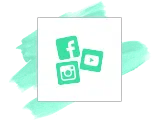 Highly Engaged Social
Media Presence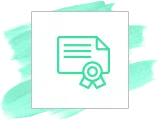 Sales Training For
Vasectomy Staff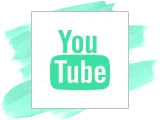 Build Your Authority With
Video Marketing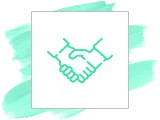 Online Reputation
Management & Monitoring
If you are interested in our complete lead generation system or any of the particular services mentioned above, or if you have a question, please click the button below.
Are you ready to improve your online presence?
LET US CREATE A DIGITAL
MARKETING PROGRAM THAT'S RIGHT FOR
YOUR CLINIC
IF YOU WANT TO DIVE DEEPER INTO OUR WORLD, THESE LINKS LEAD THE WAY