"I wanted to let you know that your guide has helped me substantially. I closed on 95% of my referrals using the techniques on this guide. It was the best $349.00 I have spent and I made it the ROI 30x over."
Tina Alizah Shahar, MS, CCC-SLP, OMT
Orofacial Myofunctional Therapist/Speech Pathologist - CEO
TASL Speech Therapy Consultants
www.taslconsultants.com
Convert more enquiries to consultations, treatments and surgery bookings with this proven sales process and scripts that will help your practice managers or you convert more prospects to patients.
THE AMAZING SECRET TO CONSISTENTLY CLOSING $1,000-$50,000 CONSULTATION & SURGERY BOOKINGS OVER THE PHONE WITHOUT HYPE, PRESSURE OR PUSHY SALES TACTICS
Dear Practice Owners,
I bet this title might trigger you abit as you might not be even aware of having something called "sales process" in a healthcare practice.
Let me guess: You've been spinning your wheels, playing the sales 'cat and mouse' game….
Speaking with prospects who at first sound interested, but then 'go cold' and you can't even get them back on the phone...let alone 'pull-the-trigger' and actually book in!
The fact that you are actually selling mid to high ticket items such as consultations, treatments or surgeries, this requires a serious proven sales process to convert more prospects to bookings, this is something that majority of the healthcare practices out there has no idea what it is!
In this guide that we've created for you is our proven sales process and sales scripts that I've used to close many high ticket sales items and provided the same training on other healthcare practices.
Download this guide, have a look and send it to your practice manager or whoever is in charge of the new patient follow up and ask them to follow this process, you'll see the changes immediately after the first few calls.
Having the automated webinar sales funnel training is one thing to drive leads and enquiries to your practice, converting them into paying patients is another process that requires serious training.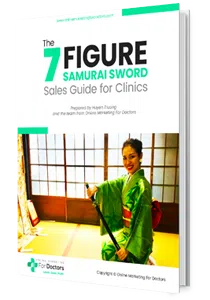 Your information is 100% secure with us and will never be shared with anyone. Double-check your email for accuracy to ensure you receive access to the information. When you request your ebook, you'll also receive the Online Marketing For Doctors Marketing Tips email newsletter completely free.
Copyright © Online Marketing For Doctors
THE MISSING PIECE TO THE 'NEW PATIENT CONVERSION PUZZLE' THAT 96% OF PRACTICES NEVER FIGURE OUT
I wrote this particular training for healthcare practices I've witnessed on daily basis a lot of practices that I've worked with doing this the totally wrong way and missed a great deal of opportunities that they could have got to convert these leads to paying patients.
I am confident to offer this guide with your success guarantee, if you or your staff learn from this guide and apply it and it doesn't work for you, all you need to do is to tell us what you did in the first 5 calls, we can review your call process, and if it doesn't work for you after that, we are happy to refund you the cost of this guide, no further questions asked.
Get this guide now and transform your new patient conversion rate!