"We have received positive feedback from our visits to GPs organised by OMD, they managed to book 7 GP visits for us in the first 2 weeks. GP marketing is 100% critical in terms of growing the practices.
There are no hiccups in OMD process, they are very responsive in communicating with us via text messages, emails and phone calls to notify us on the booked meetings.
They came up with the 12 month campaign plan called Dream 100 Referrals to target the best GPs in the suburbs that we would like to speak to and they follow up with these GPs via emails, faxes, and mails consistently. They call the GPs the day before and the day of the meetings to make sure the GP representatives show up for these appointments.
In general, so far we are happy with the website and online presence that OMD set up and the OMD performance in SEO, Google Ads and referral marketing campaign."
Dr Hugh Stephen Winters
Neurologist and Owner of Cura Medical Specialists
ARE YOU UNHAPPY WITH THE SMALL NUMBER
OF DOCTORS REFERRING TO YOUR PRACTICE?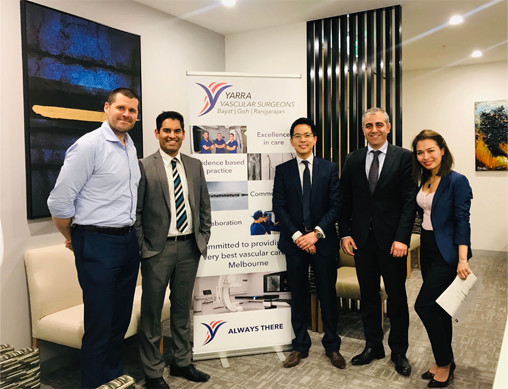 Are you a new practice and need to establish relationships with local doctors for referrals but have no idea where to start?
Are you unhappy about the quality of referrals doctors are sending you?
Are these referrals inconsistent, sometimes slow and often non-existent?
We have had the opportunity to implement a dynamic and impactful referral strategy for some of our medical practice clients with incredible results. This is a unique and game-changing strategy that will grow your practice faster than many other marketing strategies.
THE DREAM 100 REFERRALS STRATEGY
Build a consistent and effective nurturing campaign to bring more
referrals from GPs & other specialists to your practice.
Most of the GPs out there are not ready to refer patients to a new practice right now, therefore, you need a persistent, long-term plan to build up awareness with your prospective referring doctors to start receiving patient referrals from them.
The goal of the Dream 100 is to take the best suited prospective referring doctors from "I've never heard of this practice" to "What is this practice I keep hearing about?" to "I think I've heard of that practice" to "Yes, I've heard of that practice" to "Yes, I do refer my patients to that practice."
WHO ARE YOUR DREAM 100 REFERRING DOCTORS?
They are the top 100 (or 20 or 30) potential referring doctors in your area that would bring you enough patients to keep your practice happily operating with no other sources of patients.
The "dream" referring doctors will make up 60%–80% of your referred patients. It's the 80/20 rule in action: "80% of your results come from only 20% of your GP partners."
As part of this strategy, we create clever, fun and engaging marketing materials and nurture them to your targeted GPs consistently through multiple channels such as emails, direct mail, social media, SMS, and even phone calls.
THE DREAM
100 STRATEGY IN 6 STEPS
The Dream 100 Strategy helps you focus your efforts on doctors
that will have the biggest impact on your bottom line.
Avoiding Bottlenecks
And Confusion
Letting Our Plan Evolve
With Experience
WE IDENTIFY THE IDEAL GP PROFILE
WE CREATE THE DREAM LIST
We identify the top 100 GPs of interest (could be 20, 30, or 50)
quality over quantity. We include the following contact details:
Contact Person Name
& Title
Phone, Fax Number, Email, & Mailing Address
WE DEVELOP THE MARKETING COLLATERALS
Retargeting on multiple platforms
Building trust with expertise and familiarity
Developing a strategy by incorporating emailing, telemarketing, Linkedin outreach and direct mail
Being creative, personal and inviting
WE DESIGN THE MARKETING PLAN
Systematic and
Repeatable
Nurturing and
Tracking Leads
WE WILL HELP YOU BY:
Identifying your Dream 100 Referring Doctors
Creating an impressive initial offer, such as an exclusive special report on a topic of high interest, a seminar or a VIP event they can attend.
Creating and sharing impressive memorable messages, and small gifts with them via email, post, fax and telephone.
Creating a strategy to convert potential referring doctors that came through the initial offer into loyal long-term partners.
Setting up the multi-channel campaigns of a 12 month duration, including content creation, email automation, direct mail campaigns, cold calling (unlimited number of contacts)
Sourcing and purchasing creative give-aways to be sent by direct mail as part of the campaign.
Designing and conducting a telemarketing campaign to reach out to targeted GPs on a weekly basis (unlimited number of contacts).

What
OUR CLIENTS SAY
"The number of requests for consultations is at least doubled from the last 5 months, which is a very good sign. I've enjoyed working with both principles."
Dr Darryl Hodgkinson
M.B. B.S. (Honors II) F.R.C.S (C), F.A.C.S. , F.A.C.C.S. Plastic Surgeon
Owner of Double Bay Day Surgery
IF YOU WANT TO DIVE DEEPER INTO OUR WORLD, THESE LINKS LEAD THE WAY