Hi, I'm Huyen
Our work (and this site) is devoted to sharing ideas, tools and resources that will help you automate, grow and scale your practice.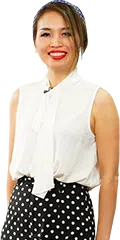 Mar 29th, 2019
Thanks for downloading these show notes and hope they aid in your enjoyment of this informative podcast.
In this podcast, we are going to cover;
A Special Freebie Just For Listening! [1:12]
The Biggest Factor In Coverting Leads [3:14]
What is the Cornerstone Of Any Relationship Based Transaction [5.39]
The 3 Keys to a Good Greeting [6:30]
How to Use Your Voice To Get More Power And Influence [7:07]
The Reasons For Establishing NBAT [8:06]
What is The Greatest Sales Skill [8:43]
Are You Identifying The 3 I's [10:56]
Easy Techniques For Handling A Prospects Objections [11:51]
How To Get More Agreements [14:43]
One of the Best Closing Questions [15:21]
Links Mentioned In the Podcast
Podcast #16: How To Increase New Patient Conversion Rate Following Initial Consultation With Dr. Mark Attalla
Podcast #17: Top Tips on How To Improve Communications Between Doctors & Patients In Specialist Practices
Freebie:
Sales Guide For Healthcare Clinics: https://onlinemarketingfordoctors.com/sales-guide-for-healthcare-clinics/
Sales Guide for Cosmetic & Plastic Surgery Clinics: https://onlinemarketingfordoctors.com/sales-guide-for-cosmetic-surgery-clinics
Get In Touch With Us
If you found this podcast interesting, please share it with your contacts and subscribe to our channel so we can send you notifications of our latest releases.
IF YOU WANT TO DIVE DEEPER INTO OUR WORLD, THESE LINKS LEAD THE WAY