Hi, I'm Huyen
Our work (and this site) is devoted to sharing ideas, tools and resources that will help you automate, grow and scale your practice.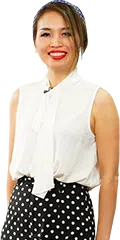 Oct 6th, 2020
Thanks for listening to the show and downloading these show notes to further help your understanding of the podcast and the material contained within.
Information Explored in This Podcast:
The following is just some of the information that we've covered in this podcast, in case you wanted to skip ahead and explore a specific topic.
Transaction takes place only when value exceeds price [1:54]
What you should never tell a prospect? [2:16]
Invite the prospects to give you a NO [4:00]
It really is the money [4:51]
What is N.B.A.T? [6:54]
Recap [7:18]
Visit: www.onlinemarketingfordoctors.com/samurai-sales-guide/
If you liked this episode and you want to stay updated on the latest strategies to grow and scale your practice, subscribe to our Podcast Channel and you will never miss a beat!
IF YOU WANT TO DIVE DEEPER INTO OUR WORLD, THESE LINKS LEAD THE WAY