VASECTOMY AUSTRALIA
"After some false starts with a couple of digital marketing companies I was very cautious about signing up with a new company so I did a lot of due diligence on not just OMD but also about 5 others. Huyen and Steve came to my office at Enmore and were very well prepared for a presentation about how they were going to take my business forward. Even pre COVID this was rare and I hate Zoom meetings! I originally found them through their podcast which is very good. I was impressed with their vision for my marketing so I called a couple of their clients to get references. They were nothing but glowing. As I said to Huyen and Steve - marketing shouldn't cost you anything. If they get the results your increase in sales should easily pay their fees and the PPC costs. This is exactly what has happened in the approx 9 months I have been a client of OMD. They have methodically transformed my digital presence and my sales have gone through the roof. I have not been disappointed and to be honest, they have exceeded my expectations. I look forward to a long relationship with OMD."
Dr Geoff Cashion –Owner of Vasectomy Australia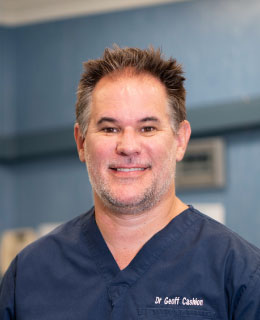 Vasectomy Australia, Australia's premiere men's health clinic, founded by Dr Geoff Cashion in 2017.
Since Vasectomy Australia is a fairly young brand, they haven't yet got a solid online foothold as other men's health clinics in the Australia wide market.
Despite being excellent in what they do, their online presence was fairly weak with low website visibility. There were not many patient reviews and the website content was thin without in-depth content, videos, previous patients' case studies and before and after images.
Another goal that Vasectomy Australia wants to achieve is to generate more enquiries from other city markets as they were getting enquiries mainly from Sydney and Melbourne markets.
The website traffic was low and the Google ads campaign was not strong enough to generate any substantial number of leads.
They worked with several marketing agencies before without much success.
In early 2020, Dr Geoff Cashion decided to search for a professional digital marketing consultant who has experience specifically with medical industry and track record in medical sector, they found Online Marketing For Doctors (OMD) team through Google search and after a thorough interview and background check, OMD team were commissioned to work on Vasectomy Australia 's website. Finally, they found the breakthrough with OMD.
Now the clinic is now growing really strong with over 6000 patients and experienced the growth rate of over 100%.
503%
Increase in
organic traffic
100%
Increase in new
patient numbers
Results after an initial 9 month campaign;
a new conversion based website
A 503 % increase in organic traffic
A 202% increase in direct traffic
SEO strategy that has VA ranking No 1 in most of VA's markets
Saving VA about 300% on their Google Advertising budget so their budget goes about 3x further
Created new videos with a Facebook marketing strategy
Helped VA quickly create a new business during COVID lockdown when they couldn't operate with a full suite of digital marketing strategies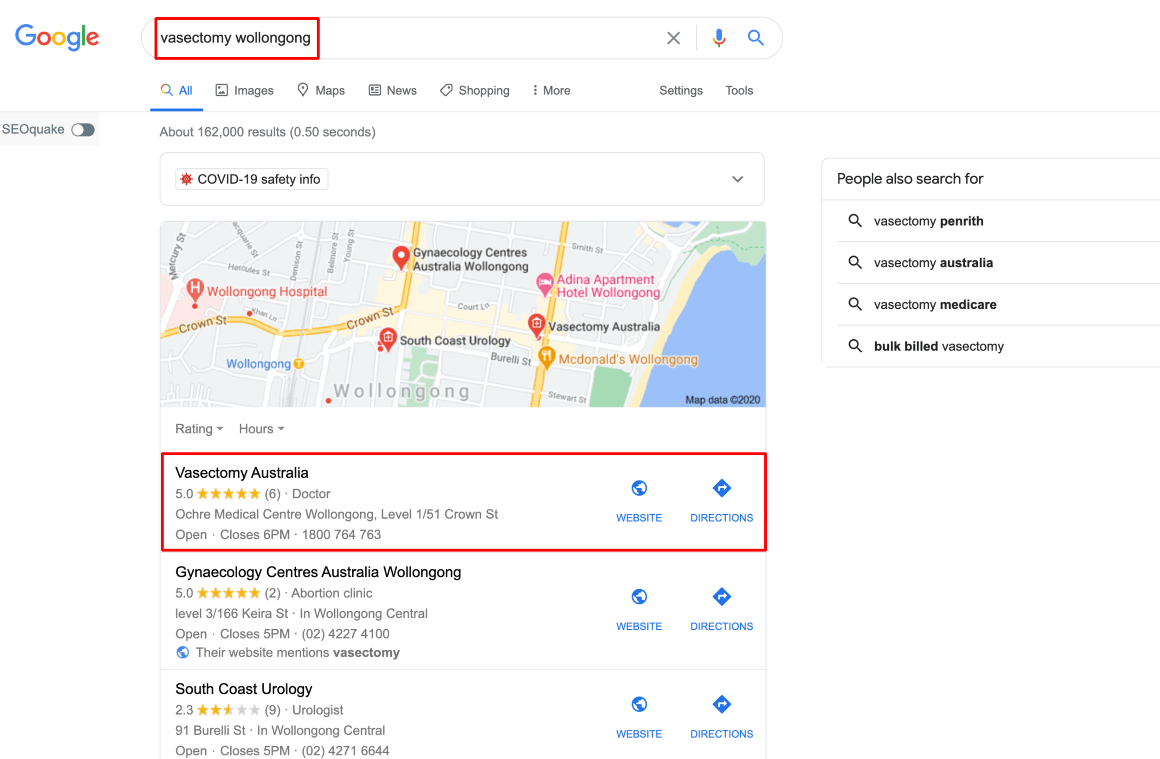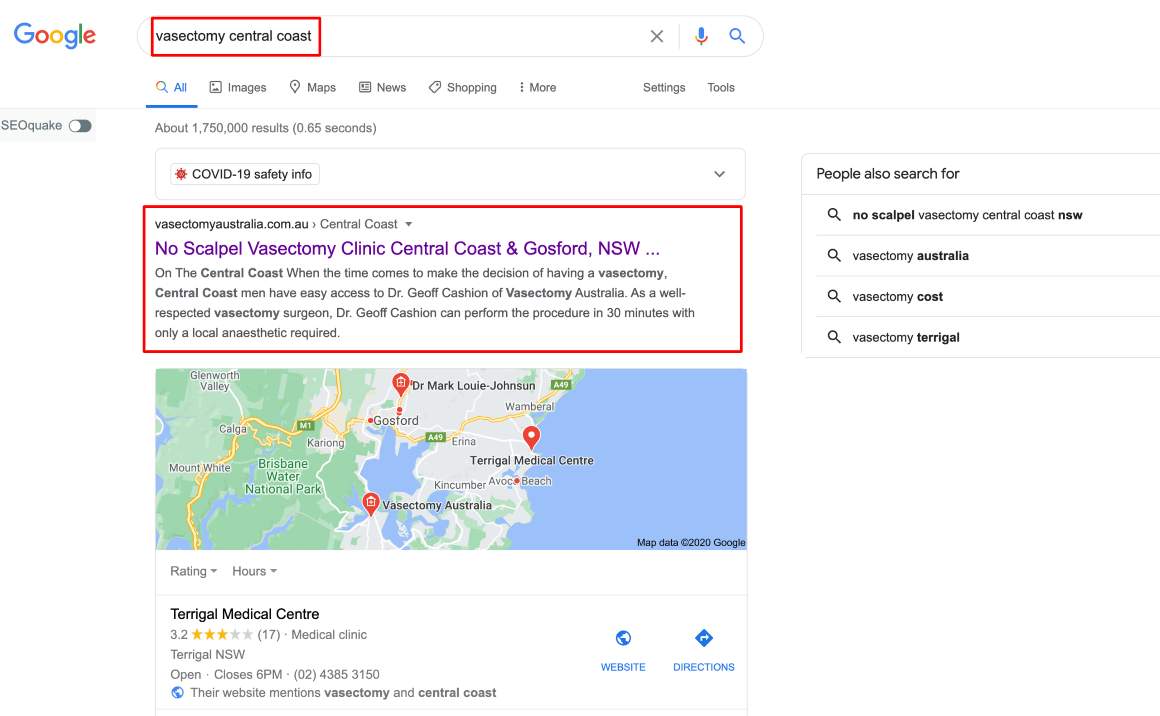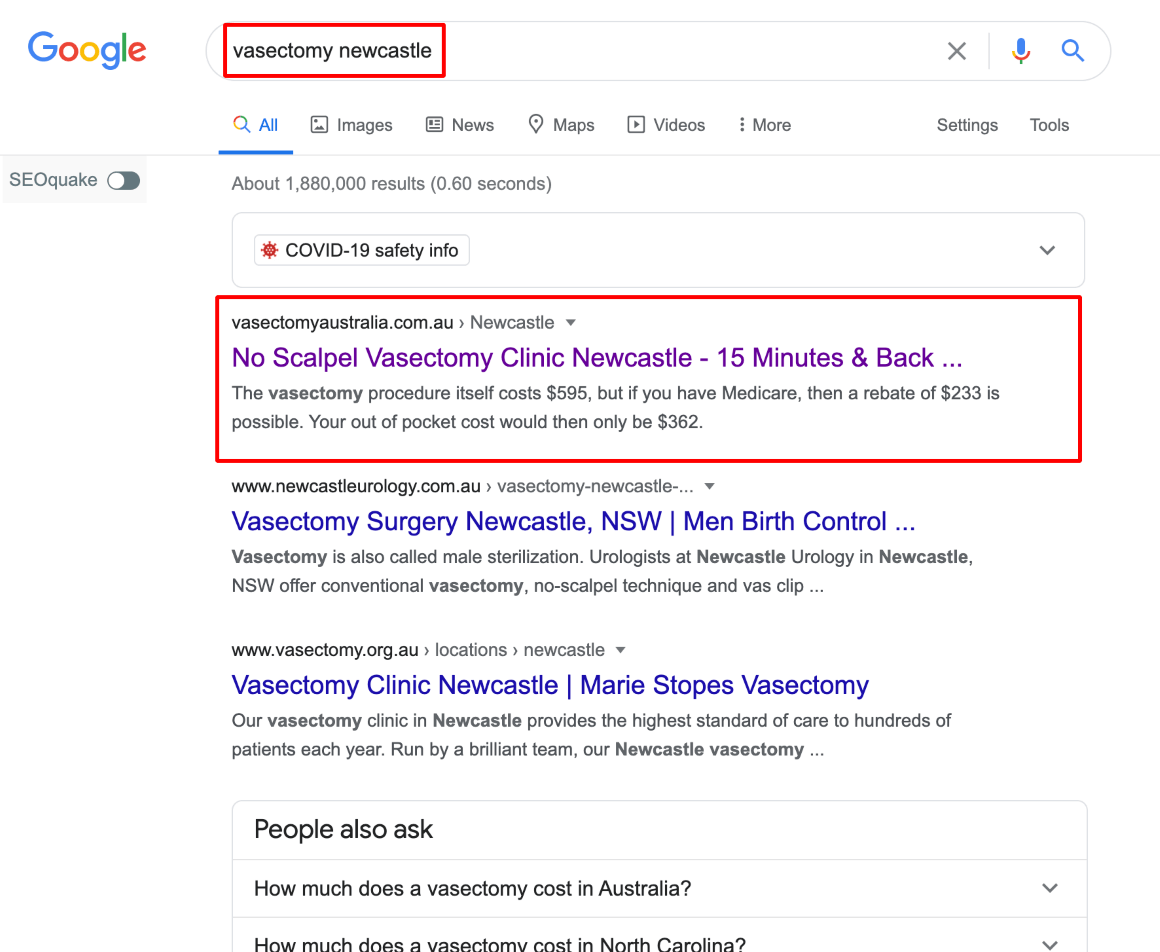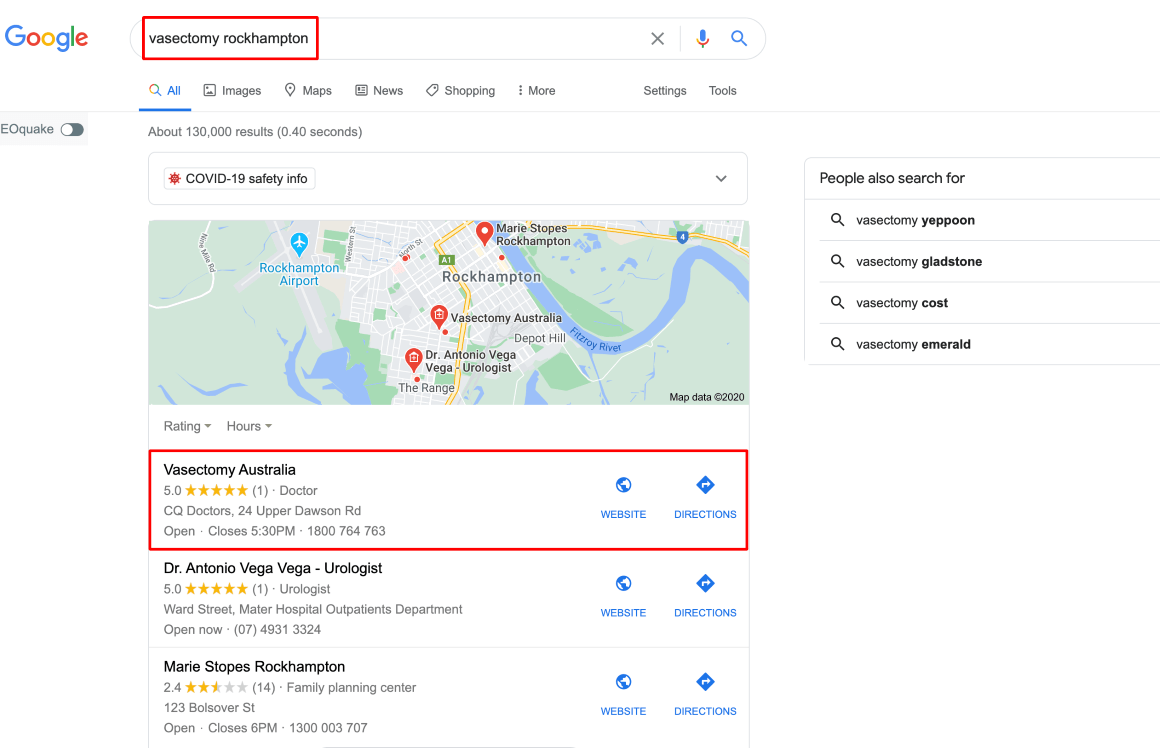 Figure 1: Top ranking for all the city keywords that VA wishes for Feature slide of ranking
Technique 1
Clarify 3 Foundational Marketing Questions For Vasectomy Australia
This is a critical session that allowed us to give Vasectomy Australia a clear direction for their online marketing activities, resources and to establish a clear pathway to reach their business goals.
We sat down with Dr Geoff Cashion, and gained some fundamental information about the practice: target patients, key services, their niches, differences, strengths, weaknesses, threats and opportunities from the market, and we used this information to devise a custom online marketing strategy for Vasectomy Australia.
There are 3 main foundational questions that we need to be able to answer to better accelerate Vasectomy Australia's marketing efforts;
Question 1: Who is their dream patient?
Question 2: Where are they hanging out?
Question 3: What hooks can we use to get their attention and bring them into our client's clinic?
When you have the perfect vision of who your dream patient or client is, it becomes easy to find where they are hiding.
On the other hand, if you don't have perfect clarity on who that person is, it's really hard to find them.
Technique 2
Research on What Strong Competitors Do and How They Do Well
Our competitor research is designed to gain a clear understanding of who are our clients' strongest competitors - what are their competitive advantages, value propositions and online marketing activities.  We specifically identify;
Where do these competitors advertise?
How is their advertising working?
Which are their biggest website traffic referral sources?
SEO Strategy: what keywords are they targeting, where do they build links, where do they promote their websites?
Gaining an insight into what competitors do and how competitors they do it gives our team and the client directions on how to surpass them.
Technique 3
Revamp the Website to Increase User Experience and Conversion Rate
One of the critical steps that other digital marketing agencies don't do is to review and improve the website user experience and conversion rate. Website is the cornerstone of all web marketing promotion and no matter how much good traffic is driven to the website, if it doesn't convert well, all the effort will go down the drain.
The changes include;
Strong, clear call to action button
Revamp the website look and feel to make it more organised, easy for users to navigate
Feature best-selling points of the procedure, provide patients more educational info such as videos, images, reference to credible information source.
As for the results: the website now has reduced bounce rate, users are spending a longer amount of time on site, users' more pages/visits and most importantly there is an increased conversion rate for Organic traffic.
Technique 4
Highlight Vasectomy Australia's Value Proposition and Key Differences from Other Clinics
After conducting extensive research on the industry and Vasectomy Australia's biggest competitors, and also after interviewing Vasectomy Australia themselves, we were able to identify Vasectomy Australia's biggest strengths and value proposition, and the key points of difference compared to the competition.
We then highlighted these key selling points on the website home page and all subpages to ensure that their target prospects would be able to view them easily from wherever they landed on the website.
Figure 2: Screenshot of the website before and after: (home page and liposuction page
Technique 5
Comprehensive Keyword Research For All Targeted Suburb, Services and Blog Content
We extensively researched appropriate keywords for all of the service pages on the website. We also conducted comprehensive long-tail keyword research to find out which search terms that users used to find information related to Vasectomy Australia's main locations.
This comprehensive keyword research enabled us to devise a strategy to help Vasectomy Australia target all the important suburbs in Sydney and other cities.
We also looked at the paid traffic data to determine the search queries that drive more conversions for the website and prioritise these keywords.
The keyword research not only covered short-tail but also long-tail keywords for blog content development.
Technique 6
Build More Local Pages
We gradually built more pages for Vasectomy Australia by adding, highly specific location pages with unique content.
A website with 100 pages has greater traffic than a 10-page website, simply because it offers more topics that users could search for.
We applied this strategy on Vasectomy Australia's service pages by creating more pages to target any possible local keyword themes that users would search for, including:
Sydney
Vasectomy Sydney – Neutral Bay
Vasectomy Sydney – Enmore
Vasectomy Sydney – Blacktown
Vasectomy Sydney – Brookvale
Vasectomy Melbourne – Gladstone Park
Vasectomy Melbourne – Brighton
Vasectomy Melbourne – Berwick
Other Cities
Vasectomy Adelaide
Vasectomy Central Coast
Vasectomy Rockhampton
Vasectomy Wollongong
Figure 3: Local pages are built with unique content to serve users in particular locations
Technique 7
Implement SEO On-site Best Practices
We implemented best practice for on-page optimisation adhering to Google and other search engine webmaster guidelines, including:
Rewrite benefits-driven copy that places users at the centre. Our goal is to create a website that users can quickly find the information they need more easily.
Ensuring Proper Indexation: Through the use of sitemaps, pagination, no-indexing tags and the reconciliation of all duplicate content, we were able to ensure the proper indexation of Vasectomy Australia's website.
Individually crafted, uniquely written Meta Titles, Meta Descriptions, and Heading tags for all pages. By optimising the site's title tags, meta description tags, heading tags and content to include targeted keywords, we were able to increase the Click Through Rate on the search result listing and targeted search traffic.
Improve the website's load times for proper SEO on both desktop and mobile devices. This is one of the key elements to increase the website ranking performance.
"No Follow" for unimportant links
External linking to highly authoritative website
Add image ALT tags to all images
Other technical SEO setups
Technique 8
Gain Local Reviews – Greatest SEO Weapon
As part of our local SEO works, we assisted Vasectomy Australia   to reach out to their current and future patients asking  for real testimonials for the website and  to actively leave reviews on Vasectomy Australia  's Google My Business Listing account.
We understand that Businesses with large volumes of positive reviews started ranking higher than those with few or negative reviews.
This helps Vasectomy Australia to have;
Increased search rankings: the more positive reviews that you have, the higher you're going to rank
Increased referral traffic: Vasectomy Australia is gaining referral traffic from not only Google My Business Listing but Facebook and other local and industry review sites as well.
Greater brand authority: When people read great reviews about Vasectomy Australia brand, they'll be more likely to start with a great impression of Vasectomy Australia, and more likely to spread the word to their friends and family.
Gained critical feedback opportunities: Sometimes doing business isn't perfect. In both positive and negative reviews of Vasectomy Australia's operation, Vasectomy Australia finds critical pieces of feedback that they can learn from and use to make their practice even better.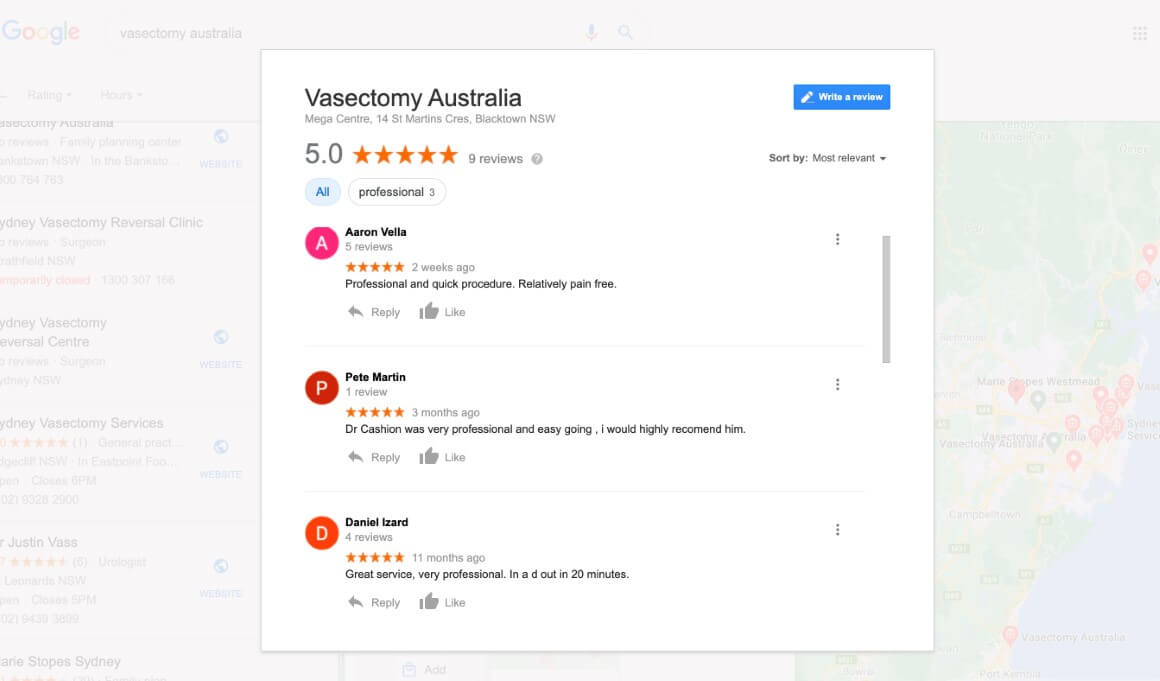 Figure 4: Vasectomy Australia has gained a good number of positive reviews on their Google My Business local listing despite the private nature of the service
Technique 9
Build High Quality Links
Incoming links from other websites are a very important component of search engine optimisation. Poor quality links not only won't increase your traffic or ranking, but they can also damage your domain and potentially attract a penalty from Google, or other search engines, if the site linked to has violated any webmaster guidelines.
We take link building very seriously and we make sure that all the sites that we place links on are well screened before any placement.  Some of the link building we did include;
Outreach to relevant blogs to feature Vasectomy Australia 's content and gain quality backlinks to the website.
Listing of the website on medical, health and local directories
Submission of videos, and relevant marketing material to submission sites
Press release campaign to gain positive media mentions for Vasectomy Australia
Figure 5: Traffic performance compared to 6 month ago
Technique 10
Create Dedicated Landing Page For Google Ads Campaign
One of the main Paid Per Click advertising strategies is to build a dedicated landing page without distractions and a single focused call to action. The landing page helps answer all possible questions that prospects might have. The landing page helps increase conversions by 115%.
Figure 6: The efforts revamping landing pages help increase the conversion rate by 600 % and the absolute number of conversions by 480%
Technique 11
SKAG Google Ads Strategy and Cost Per Click Negotiation Process With Google
This is the strategy that not many agencies know of and we've applied successfully for many clients and helped clients to reduce budget by up to 100% and double the conversions, reducing the cost per acquisition significantly.
SKAG means Single Keyword Ad Group Strategy - we only use one keyword or very close version of that keyword in the ad group, for example "Vasectomy Sydney" and "Vasectomy In Sydney".
This will ensure that the ad copy matches users' search queries, hence increasing Click Through Rate.
Another strategy for bidding is we have a negotiation process with Google and always start with a lower than average low-range bid of a particular keyword's cost per click and increase it up to the point that Google is willing to show the ads. This helps make sure that we don't overpay Google and together with SKAG structure, we can control the CPC of the keyword very well and know the exact cost of a particular keyword.
Technique 12
Generate New Leads Through Facebook & Instagram Ads
Part of the digital comprehensive marketing strategy, we proposed Facebook and Instagram ads plan to generate awareness about new procedures and increase new enquiries from the campaigns.
We also use Facebook and Instagram ads to remarket to Vasectomy Australia 's website, email list and social media audience, this helps reengage prospects and increase the frequency of the brand presence and encounter in their prospects' online activities.
Figure 8: Facebook & Instagram Ads creatives that generate hundreds of likes, shares and comments and website visits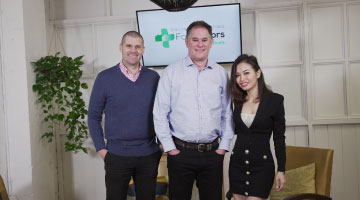 "They have methodically transformed my digital presence and my sales have gone through the roof. I have not been disappointed and to be honest, they have exceeded my expectations. I look forward to a long relationship with OMD."
Dr Geoff Cashion
Owner of Vasectomy Australia
"We've seen a significant increase in our website traffic and enquiries by over 300%, with an obvious uptake in new patient enquiries and conversions coming through the clinic. We've seen a complete turnaround in our online presence in several spaces that we are advertising in."
Ms Christy Xuan
Owner of Lumiere Beauty Clinic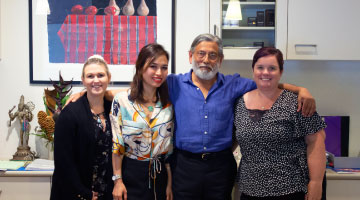 "They put together a comprehensive strategy and plan to improve our digital marketing presence (SEO, PPC ads, Website Content and Landing Pages), and so far we can see obvious improved results from the work that they have done."
Dr Chandran Arianayagam
Plastic Surgeon/Owner of PCLS Coffs Harbour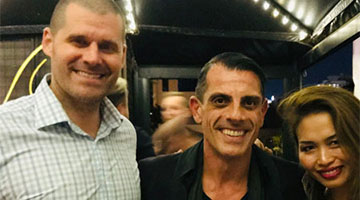 "It's now been 4 months and I am nothing but impressed with this team. They've delivered above their projections and continually over-deliver on their promises. The team is quick to respond to any issues, their professionalism is second to none."
James Zagarella
General Manager of Dr Hodgkinson Clinic

"Enquiries have gone crazy and the number of enquiries has increased three-fold ever since they started 6 months ago. The team and Huyen have been very responsive to support us along the way with our IT problems, they are very thorough and results-driven with their work. We would highly recommend them."
James Nadin
CEO of ICCM & Crown Clinic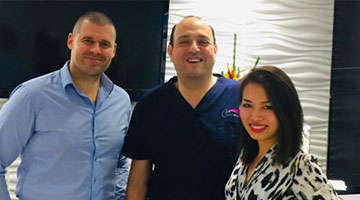 "We found that we are spending almost one-fourth of our previous budget and getting double the conversion which is a great deal to achieve in a short period of time."
Dr Mark Attalla
Cosmetic Surgeon / Owner of Chelsea Cosmetics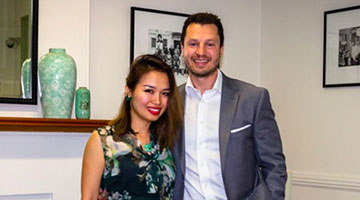 "We've seen a significant increase in our website traffic by over 200%, we've gone from having 12 enquiries to anywhere from 50 to 100 enquiries in a month, while consistently filling our list times at the hospital."
Dr Michael Yunaev
Cosmetic Surgeon, Specialist Breast (Oncoplastic)

"Over the last 12 months we have increased the web traffic by over 100% and also increased the conversion by over 100%."
Dr Naveen Somia
MBBS, PhD, FRACS Plastic Surgeon

"The number of requests for consultations is at least doubled from the last 5 months, which is a very good sign. I've enjoyed working with both principles."
Dr Darryl Hodgkinson
Plastic Surgeon / Owner of Double Bay Day Surgery
IF YOU LIKE WHAT YOU READ, PLEASE BOOK IN A 15 MIN
NEW PATIENT GENERATION STRATEGY CALL WITH US