ELITE CARDIOLOGY MEDICAL GROUP
"We would recommend Online Marketing for Doctors to any medical practice who is looking for a serious SEO service to improve their internet traffic, conversion rate and their bottom line."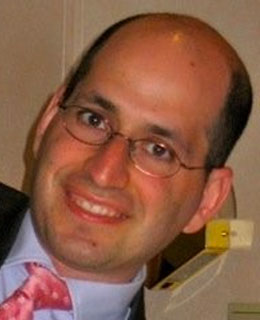 Elite Cardiology Medical Group (ECG) was attempting to extend its market share internationally, moving operations into the United States and other English speaking markets around the world. They felt site visibility through search engines was critical to improving their position and influence in the market.
ECG approached Online Marketing for Doctors after carefully considering a series of SEO agencies offering a wide variety of services and price points.
The majority of internet traffic for ECG was coming from direct searches on the specific medical practice name. So the medical practice was concerned that its website wasn't getting the highest possible volume of natural search traffic and had limited visibility in search engine results. ECG decided to hire Online Marketing for Doctors to address the weaknesses in its existing website's content, visual presentation, conversion elements, site architecture and other technical issues to help drive more web traffic from search engine results to its website.
4x
Increase of search
engine traffic
50%
Increase in
total monthly
web traffic
By implementing a number of different SEO best practices to the ECG Medical website, the Online Marketing for Doctors team was able to quadruple search engine traffic within 90 days and bring about a 50% increase in overall site traffic within the same time period.
Our approach to increasing ECG's inbound traffic relied on the use of a number of different white-hat SEO best practices. As described below, our efforts were focused on improving visual presentation, conversion elements of the website, duplicate content concerns, indexing issues, on-page optimisation, link building, content and social media marketing.

Technique 1
Increase Website Conversion
Most SEO medical pratices won't pay attention to this very important element of your website, but increasing your website's internet traffic will mean little if you aren't converting them.
Before starting to fix any technical issues on the website, one of our first steps is to review the website considering visual, content and conversion issues as part of our standard SEO technical audit process. We then make recommendations on website copy, images, calls to action, layout, design, engagement and maximising the conversion capability of the website.
Technique 2
Eliminate Duplicate Content
The first issue that Online Marketing for Doctors encountered was a high number of duplicate pages, as reported by the medical practice's Google Webmaster Tools account. Because this could prevent key pages from being indexed and ranked correctly in natural search engine results, we took the following actions to minimise the number of duplicate results reported;
In many cases, Google was automatically putting the site's brand name in place of each page's meta description, resulting in duplication issues. To avoid this, we created unique meta description tags for each page in the website.
Redirecting http://ecgmedical.com/home/ to http://ecgmedical.com to fix a very common yet deadly SEO error in site structure when there is duplication of the "Home" page and the website domain.
By adding "no-follow" tags to unimportant page types (including tag pages, category pages and individual comment pages), we were able to minimise instances of duplicate content detection, while at the same time optimising the use of the site's crawl budget.
By replacing the "ECG Medical" wording amongst the internal page titles we were able to help each page appear more unique to search engine spiders.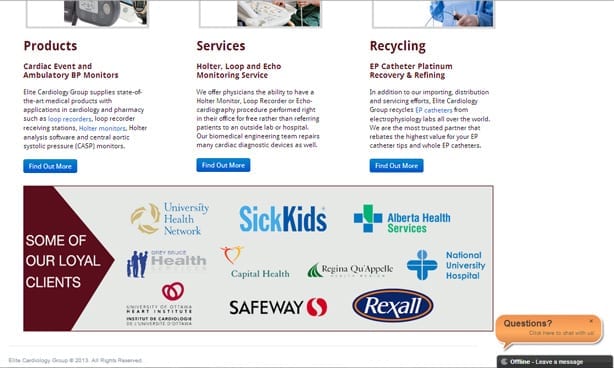 Technique 3
Ensure Proper Site Indexing
Online Marketing for Doctors determined that search engines weren't properly indexing all the pages in the website. As a result, ECG was missing several vital opportunities to be listed in search results, which we remedied with the following actions;
We added "related post" links to each page of content on the site to improve site indexing and increase visitor engagement by providing readers with further articles of interest.
We fixed meta robot to allow Google bot to index subpages, improved the internal link structure and fixed broken links, 404 pages, and any pagination issues.
Technique 4
Implement On-Site Optimisation Best Practices
Because SEO best practices change from time to time, one of our first priorities for the ECG website was to ensure that all on-page SEO optimisation factors met current quality standards. The following are just a few of the elements we addressed as a part of this strategy;
Optimise image ALT tags and file name attributions to internal content pictures.
Headline tags were added to internal pages to give targeted keywords more prominence.
Title tags on all internal pages were optimised to provide valuable, keyword rich information to both website visitors and search engine spiders.
URLs were rewritten to make them more keyword and SEO friendly: clean, short, keyword-descriptive URLs.
Eternal links to high-value relevant content sources wherever possible
Oversized images were resized to help increase the speed that the website loads.
Technique 5
Maximize Social Media Marketing
Online Marketing for Doctors was able to effectively boost ECG's social media presence by using the following tactics;
Increase participation in and share content on Twitter, Google Plus, Facebook and LinkedIn, following key influencers and decision makers.
Signed ECG up for Google place and authorship, increasing search engine visibility, higher click through rates.
Adding social media share buttons to the website to control the specific sites which users shared ECG content.
Technique 6
Engage in Content Marketing
ECG was encouraged to create regular unique, valuable, SEO friendly content for blogging.
Both people and search engines like their web content new and relevant. So blogs are, by nature, an ideal medium for exchanging this type of content. By posting a new blog daily or even weekly gives readers new information and gives search engines the impression that ECG is active and relevant.
Whether it's through social media, blog comments or links to their blog from other sites, they will all help increase ECG's website authority in search engines, making ECG more visible to readers and helping to spread their content on the internet.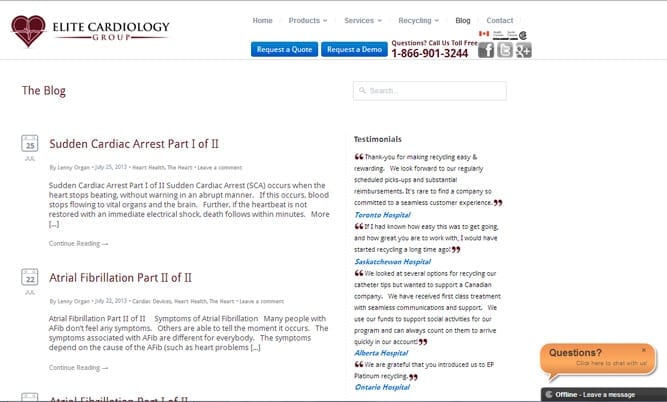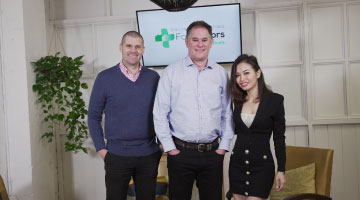 "They have methodically transformed my digital presence and my sales have gone through the roof. I have not been disappointed and to be honest, they have exceeded my expectations. I look forward to a long relationship with OMD."
Dr Geoff Cashion
Owner of Vasectomy Australia
"We've seen a significant increase in our website traffic and enquiries by over 300%, with an obvious uptake in new patient enquiries and conversions coming through the clinic. We've seen a complete turnaround in our online presence in several spaces that we are advertising in."
Ms Christy Xuan
Owner of Lumiere Beauty Clinic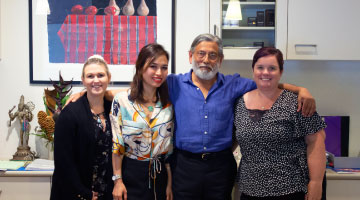 "They put together a comprehensive strategy and plan to improve our digital marketing presence (SEO, PPC ads, Website Content and Landing Pages), and so far we can see obvious improved results from the work that they have done."
Dr Chandran Arianayagam
Plastic Surgeon/Owner of PCLS Coffs Harbour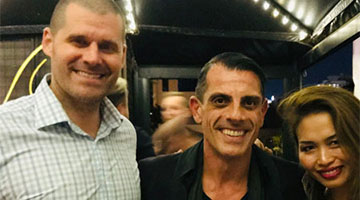 "It's now been 4 months and I am nothing but impressed with this team. They've delivered above their projections and continually over-deliver on their promises. The team is quick to respond to any issues, their professionalism is second to none."
James Zagarella
General Manager of Dr Hodgkinson Clinic

"Enquiries have gone crazy and the number of enquiries has increased three-fold ever since they started 6 months ago. The team and Huyen have been very responsive to support us along the way with our IT problems, they are very thorough and results-driven with their work. We would highly recommend them."
James Nadin
CEO of ICCM & Crown Clinic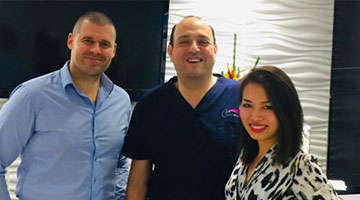 "We found that we are spending almost one-fourth of our previous budget and getting double the conversion which is a great deal to achieve in a short period of time."
Dr Mark Attalla
Cosmetic Surgeon / Owner of Chelsea Cosmetics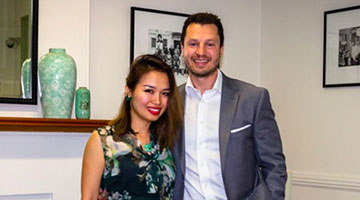 "We've seen a significant increase in our website traffic by over 200%, we've gone from having 12 enquiries to anywhere from 50 to 100 enquiries in a month, while consistently filling our list times at the hospital."
Dr Michael Yunaev
Cosmetic Surgeon, Specialist Breast (Oncoplastic)

"Over the last 12 months we have increased the web traffic by over 100% and also increased the conversion by over 100%."
Dr Naveen Somia
MBBS, PhD, FRACS Plastic Surgeon

"The number of requests for consultations is at least doubled from the last 5 months, which is a very good sign. I've enjoyed working with both principles."
Dr Darryl Hodgkinson
Plastic Surgeon / Owner of Double Bay Day Surgery
IF YOU LIKE WHAT YOU READ, PLEASE BOOK IN A 15 MIN
NEW PATIENT GENERATION STRATEGY CALL WITH US