GET THE REPORT NOW AND
YOU'LL LEARN
What other highly successful practices are doing to easily and consistently get more patients and keep them as patients year after year after year
How to stand out from other practices like yours when potential patients are looking for you. Know what to do, how to do it and who do it for you to get listed on the first page of Google (all as quickly as within the first 30 days)
Why your online reputation is critically important and how to get many rave reviews from patients that will instantly build trust in your practice and cause more potential patients to contact you
18 healthcare directories where your practice can be listed to increase your online visibility (We've done all the research for you). Most practices don't even know these directories exist so you'll instantly gain a competitive advantage when you are listed here.
Proven patient attraction tactics that other competing practices aren't even aware of. Learn these tactics and get a practice growing advantage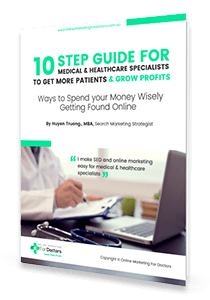 Your information is 100% secure with us and will never be shared with anyone. Double-check your email for accuracy to ensure you receive access to the information. When you request your ebook, you'll also receive the Online Marketing For Doctors Marketing Tips email newsletter completely free.
Copyright © Online Marketing For Doctors
Do you want more patients or clients from better online marketing but not sure with all the options what approach is best?
Have you decided that the time is now to promote your practice as you see many competing practices
aggressively seek new patients with online marketing?
Are you concerned that your practice can't be easily found online? Is your practice not growing fast enough? Or do you simply want to grow your practice to the next level? Are you dissatisfied with the online marketing help you are getting now? It doesn't have to be this way.
Get our FREE special report "10 STEP GUIDE FOR MEDICAL & HEALTHCARE SPECIALISTS TO GET MORE PATIENTS & GROW PROFITS" and watch your practice grow.
As soon as you get and start applying the techniques in our FREE guide you'll start getting more patients and doubling the number of inquiries you receive daily …all in less than 12 months.
Just imagine never having to worry about getting more patients and growing your practice so you can focus on providing higher quality patient care while having the time to enjoy life more. What could be better than that?
Simply leave your name, practice name and email address to get immediate access to our FREE practice and profit building report. This report will only be available for a limited time so get it now.
HERE'S WHAT ONE DOCTOR HAD TO SAY
ABOUT OUR GUIDE
DR. KING
"This report was very helpful. One idea we learned will make a huge difference in helping us get more patients and grow practice profits."
DR ROB KING / Men's Health Physician